G DATA Security Solutions
G DATA solutions not only protect against viruses, Trojans, spyware, phishing, and other malware but also allow you to back up your data, set limits on website content and usage to protect your family. Special browser protection also prevents manipulation by keyloggers and other digital malware during online banking transactions.
Complete security for your PCs, notebooks and Android devices – IT solutions from G DATA offer flexible data and identity protection. Wherever your personal data needs security – we have the right software.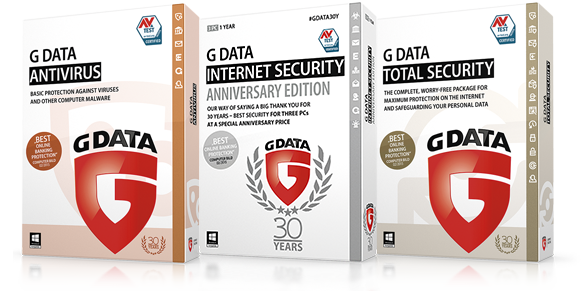 Active hybrid protection for fending off malware and online attacks
Precision and speed are critical for the fast, successful avoidance of computer malware. A short response time between the first occurrence of the malware and the availability of a corresponding virus signature is often essential. Traditional antivirus solutions frequently cannot keep pace.
G DATA CloseGap technology takes a different route, combining proactive, signature-based security technologies in powerful active hybrid protection. CloseGap receives additional enhancements with every update, so the functionality can easily be adapted to the current threat. This means that your data is ideally protected all the time – even in the event of new, previously unknown attack scenarios. However, G DATA CloseGap offers one other advantage over the dual engine concept used to date: the use of resources is significantly lower.
Dual engine technology functionality

A dual engine provides perfect protection against online threats. However, the double detection uses up a lot of computing resources.

G DATA CloseGap functionality

G DATA CloseGap active hybrid protection detects and closes holes in the protective shield fully automatically. It does so quickly and effectively – for comprehensive, efficient protection that does not slow down your PC or laptop.
Need G Data for Your System?